Some facts about the Life Insurance Industry in India...
India has amongst the lowest insurance penetrations across the world at 2.72% of GDP in 2016, significantly lower than the world average of 3.47%. Much smaller countries like Taiwan have a penetration of 16.65%. On important point of note is that among the BRIC nations, represented in the chart below, India is doing relatively better than Brazil and China. You will also note that India's insurance penetration has marginally gone up to 2.76% in 2017, however the global data is not available. All data has been taken from the IRDAI Annual Report 2016-17.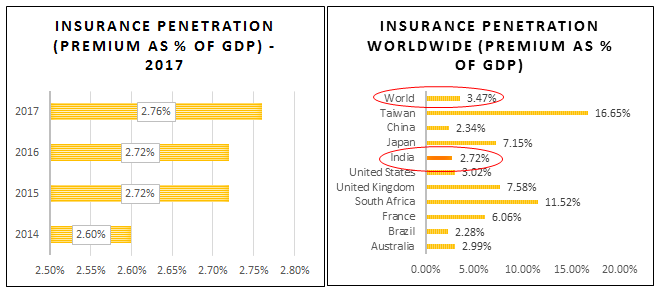 Another parameter that gets generally compared across countries is the Insurance Density. Insurance density is measured or defined as ratio of premium (in US $) to total population of the country. Here India is again significantly worse off than almost all global countries and is more than 80% off the world average density. Again India has shown marginal improvement in 2017, but still has a long way to go.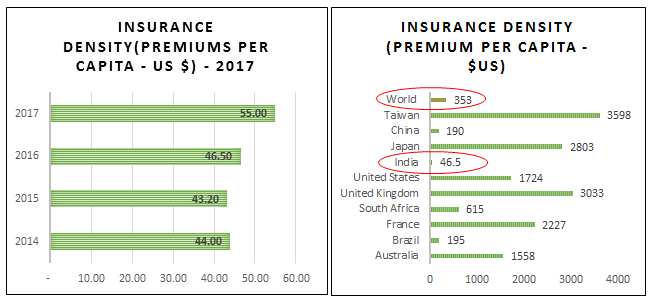 The Life Insurance Industry in India has been growing steadily over the past years and the March 2018 GPW was $ USD 71.1 billion (almost 500,000 lac crores at today's exchange). There are currently 24 active Life insurance players (1 Public sector insurer Life Insurance Corporation or LIC and 23 Private Players).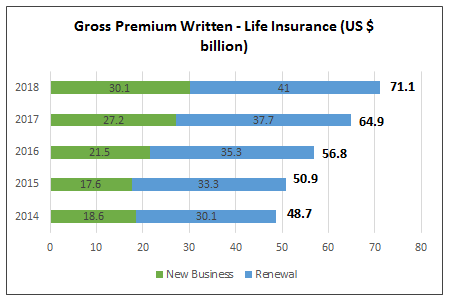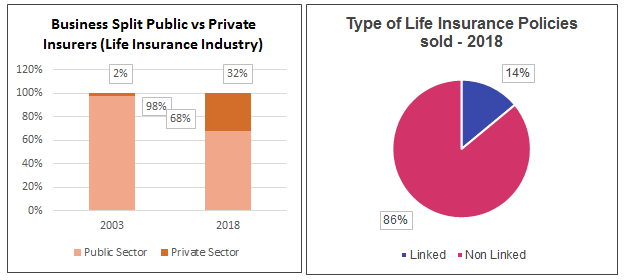 The Private Players have been growing more extensively and aggressively across all channels and hence now enjoy a 32% share (which was 2% 15 years ago). Similarly in terms of products also, the ULIP sensation has now quietened down and now Non Linked products have a significant and dominating 86% of all Life insurance policy sales.