What are the Illness plaguing India today?
Almost 38 million deaths occurred due to non-communicable diseases ( NCDs) each year. In that 16 million deaths occur before the age of 70 & 82% of these premature deaths occurred in low- and middle-income countries including India. The World Health Organisation (WHO) indicates that India ranks very high among the nations affected by the rising wave of premature deaths caused by non-communicable diseases, which account for 60% of all deaths in India.
Non-communicable diseases, also known as chronic diseases, which are impacting India today. They are long duration illnesses and have slow progression like cardiovascular diseases, cancers, chronic respiratory diseases and diabetes which are not passed from person to person. In India, roughly 5.8 million Indians die because of diabetes, cancer, stroke, heart and lung diseases each year. In other words, out of 4 Indians 1 has risks dying from an NCD before the age of 70.
About 1.7 million Indian's deaths caused by heart diseases every year, according to the World Health Organisation.
Roughly 16 lakh people suffer from stroke throughout the India and health has found that 55 to 60 per cent men are prone to stroke as compared to women.
In 2014, the incidence of cancer in India was 70-90 per 100,000 populations and this has been growing steadily year on year. And cancer prevalence is established to be around 2,500,000 (2.5 million) with over 800,000 new cases and 5,50,000 deaths occurring each year.
Latest statistics provides that diabetes is fast gaining the status of a potential epidemic in India with more than 62 million diabetic. And it is predicted that by 2030 diabetes mellitus may afflict up to 79.4 million individuals in India. According to International Diabetes Federation (IDF) 1 in every 10 adults will have diabetes in 2030. Study to find prevalence of diabetes & hypertension discovers 80% people had abdominal obesity.
According to the World Health Organisation (WHO) Statistical Profile for India in 2012, the Top 10 causes of death amongst Indians are presented in a chart below.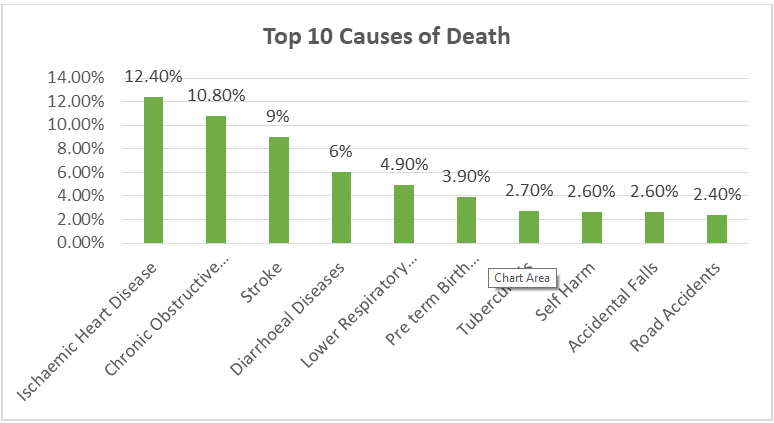 Price-Waterhouse-Coopers predicts that in 2025, an estimated 18.9 crore people in the country (more than 60 years of age), will be needing higher healthcare spends. By the end of 2025, India will need as many as 17.5 crore additional beds according to a combined study by an industry body and Ernst & Young. In India, 3.2 crore people go below the national poverty line because of their spending on healthcare out of their own pockets for themselves and their family members. Out of total expenditure on healthcare, more than 78% goes out of the patient's pocket and the rest is paid by the Government and insurance companies.

Another challenge is the underinsurance percentage of people between 61-65 years which is currently hovering around 75%. This means that the persons in this age category, while having an insurance policy, have a very low SI which will not completely cover their medical expenses and again they will need to cough up from their pocket all their hard earned savings. One of the main reasons for this alarming underinsurance statistics is that people must understand that health insurance is not just a tax saving tool, and therefore be mindful while choosing an appropriate sum insured based on their lifestyle for themselves and their family. At 52% men are more underinsured than women at 46%. Also, underinsurance is more prevalent in higher age brackets as 62% of policyholders above 45 years of age.

The positive news for the India market is that between the Stand Alone Health Insurance players and the General Insurance companies offering Health Insurance, almost all policies cover such Lifestyle Illnesses and some of them have products specifically for Cancer, Diabetes etc. The Sum insureds offered by the Health insurers have also significantly increased and with options like "Sum Insured Restore" the customer really is spoilt for choice today. This means that individuals can insure themselves against financial stress in case they are effected by any of these NCD's.
Some data around the Health Insurance Market (as put together by IBEF in June 2018) :
Only 18% of people in urban areas and 14.1% in rural areas are covered under any kind of health insurance scheme and this is primarily driven by Government Sponsored and Corporate Health schemes.
Gross direct premium from health insurance reached Rs 37,897 crores (US$ 5.88 billion) in FY17-18 and contributed 25.2% per cent to the gross direct premiums of non-life insurance companies in India.
Absence of a government-funded health insurance makes the market attractive for private players
Introduction of health insurance portability was expected to boost the orderly growth of the health insurance sector ut has not created the desired impact in the India market (much like the Telecom sector)
In July 2016, IRDAI issued Health Insurance Regulations, 2016. These regulations replace the Health Insurance Regulations, 2013. As per these new norms, companies will provide better data disclosure, pilot products, coverage in younger years, etc.
Government-sponsored programmes expected to provide coverage to nearly 380 million people by 2020, driven by initiatives such as RSBY and ESIC
RSBY is a centrally sponsored scheme to provide health insurance to Below Poverty Line (BPL) families and eleven other defined categories of unorganised workers, namely building and other construction workers, licensed railway porters, street vendors, MGNREGA workers, etc.