Location / Language of Bhutan
The Kingdom of Bhutan is a small country located in the southern foothills of the Himalayan mountain range, between the People's Republic of China in the north and the Republic of India in the south. It is landlocked, which means it is surrounded by land on all sides. It is a sovereign nation, with a total land area of 38,394 km² and a total population of around 8 lacs (2017). Its landscape ranges from subtropical plains and forests in the South to subalpine forests and snowy mountains in the North.
Bhutan is a predominantly Buddhist country and is known as the last stronghold of Mahayana Buddhism. Bhutan is geopolitically in East Asia and is the region's second least populous nation after the Maldives. Thimphu is its capital and largest city.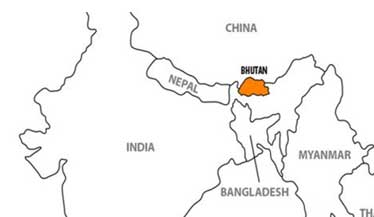 The official language of Bhutan is Dzongkha, which is derived from Tibetan. Many people in Bhutan speak English, however, since it's the medium of instruction in the schools.
Visa Requirements / Currency (please note these procedures / exchange rates can changed from time to time…please get an update from the embassy prior to travel)
Bhutan require a visa which must be pre-arranged through a license Bhutanese Tour Operator or one of their international partners. For Indian passport (or VIC) holders, Bangladeshi nationals and persons from the Maldives may obtain a visa on entry.

Currency : Bhutanese Ngultrum (BTN)
Conversion : Rs. 1 INR = 1 BTN
Top 10 tourist attractions in Bhutan
Tiger's Nest Monastery in Paro - Locally known as Taktsang, the 326 years old monastery is one of the most sacred religious sites in the Bhutan. The monastery is at a height of 900 meters above Paro valley.
National Museum in Paro - The national museum of Bhutan is housed inside a medieval watch tower in Paro valley. The watch tower locally known as Ta Dzong is located above the Paro Dzong (Fortress).
Druk Wangyel Chorten at Dochula Pass - 108 Chortens (Buddhist Stupas) add to the tranquillity of the mountain pass and are constructed at Dochula Pass. It is 30 minute drive away from Thimphu enroute to Punakha.
Phobjikha Valley in Wangdue - Phobjikha is one of the most idyllic places in Bhutan. Part of an important wildlife preserve, Phobjikha is home to many endangered species. The vast open marshy land is home to the Black Necked Crane.
Uma Paro Hotel - Just a 10 minutes scenic drive from Paro airport, Uma Paro Hotel perches proudly on a Himalayan mountain, flanked by thick pine forests with views that overlay the Paro district, it is one of the remote kingdom's only boutique hotels.
Chimi Lhakhang in Punakha – Chimi Lhakhang is an old Buddhist temple in Punakha built in the honor of a Buddhist saint Drukpa Kuenley who lived 500 years ago.
Folk Heritage Museum in Thimphu - A 150 years old traditional house stands out surrounded by modern concrete structures close to the city centre.
Buddha Dordenma in Thimphu - The 51 meters tall Buddha statue overlooks the Thimphu city.
Punakha Dzong in Punakha - The fortress in Punakha or locally known as Dzong is one of the most beautiful structures of its kind in the country. It is said that the design of the Dzong was revealed to the carpenter/architect in his dream.
Zuri Dzong Hike - The peak of the Zuri Dzong Trek is probably the perfect spot to have a bird-eye view of the entire Paro valley. The Zuri Dzong is the oldest Dzong in Bhutan, and in there lies a cave where Buddha came to meditate in, in the 8th century.
Things you must do in Bhutan
Adventure sports - Set amongst the majestic Himalayas our kingdom is the perfect location for all manner of exciting activities including Hiking, Trekking, Kayaking, Mountain Biking and Fishing.
Traditional archery - Archery is the national sport in Bhutan. While modern compound bow from the west is becoming popular among local archers, the traditional bow and arrow sourced from the finest bamboos are still cherished.
Mask dance festival - Mask dance festivals or locally known as Tsechu are a religious event celebrated for several days annually across the country. The events are held within or around the great medieval Dzongs (Fortress).
Bird watching - Bhutan is a paradise for bird lovers and ornithologists. Over 670 species of birds have been recorded and many more are yet to be discovered. Around 50 species of the known birds are winter migrants.
Spirituality & wellness - Bhutan has many activities available for those visitors seeking a place of solace, rest and recuperation.  Whether it's a session of peaceful, contemplative meditation, a relaxing soak in a mineral hot spring bath or the all-natural remedies of our traditional medicine Bhutan has just what you need to revive and rejuvenate your body and spirit.
Food on the plate
The most distinctive characteristic of Bhutanese cuisine is its spiciness. Chillis are an essential part of nearly every dish and are considered so important that most Bhutanese people would not enjoy a meal that was not spicy. Rice forms the main body of most Bhutanese meals. It is accompanied by one or two side dishes consisting of meat or vegetables. Vegetables commonly consumed include Spinach, pumpkins, turnips, radishes, tomatoes, river weed, onions and green beans. Pork, beef and chicken are the meats that are eaten most often.