Coverage without Sickness Medical Cover – Student
Most of the popular Indian student insurance products offer coverage for hospitalization expenses, doctor visits, surgeries, pharmacy bills and other medical expenses for Indian students studying overseas. A student must be aware of the other risks that may arises while in a foreign country. Some of these exigencies are loss of passport, study interruption, loss of baggage before you reach the destination country, personal liability, need for bail, protecting the sponsorship. There are good Indian student insurance plans that offer coverage for the expenses arising from these non-medical emergencies. Since they cover only these non medical emergencies, they are very affordable. These non-medical student insurance policies complement University student insurance plans very well. In other words, even if one has to buy an University insurance plan, it is very logical to buy this Indian non-medical insurance plans as international University insurance will not provide the coverage that these plans offer which are unique to the needs of Indian student while outside India. Review and buy the best student non-medical insurance plans satisfying your needs.

India had a total of around 550,000 students abroad in as many as 86 countries during 2017-18. 36 of these are countries are from Asia, 32 from Europe, 8 from Africa, 6 from South America and 2 each from North America & Australia. More than 50% of the Indian students' study in North America, specifically USA. These numbers have been growing at an average of around 7-8% YOY, which has reduced from a few years ago.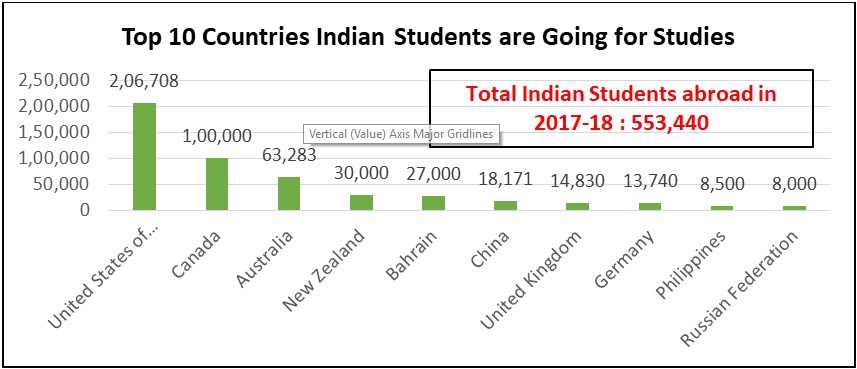 Currently while there are many Indian Insurance companies offering comprehensive coverage plans for Students traveling abroad for their studies, almost 90% of students prefer to purchase their insurance policy from the University Insurance offerings rather than opt for an India insurance plan. This is primarily because the students feel that it will be easier to get a cashless coverage in case they need to be hospitalised for any sickness/accidental emergency while at the University. They also do not want to risk any enrolment issues while starting out at the University and hence opt for any of the insurance plans being offered by the University.